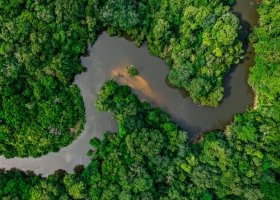 Burgeoning threats to the Amazon ecosystem are pushing the region—often referred to as the planet's "lungs"—closer to an irreversible tipping point, leading to reduced rainfall, widespread ecosystem degradation, and ultimately crippling the Amazon's ability to serve as a carbon dioxide sink for our planet. In response, many business and social entrepreneurs are mobilizing billions in investment capital in the region to complement public and philanthropic efforts to end deforestation. Ensuring a policy landscape conducive to scaling up and leveraging private sector investment—and private sector investment that encourages sound policy—is key to safeguarding the Amazon's future.
We invite you to join the Wilson Center in partnership with the International Conservation Caucus Foundation for a discussion with experts on this important topic on Friday, November 4th.
Please note that additional panelists will be added.
A limited number of in-person seats will be available at the Wilson Center. To reserve a spot, please RSVP below.