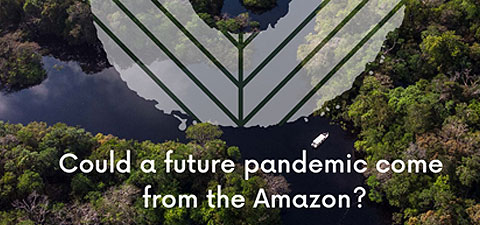 Webinar hosted by the Amazon Sustainable Landscapes Program – World Bank Group
Spanish and Portuguese simultaneous interpretation will be available.
Overview:
Pandemics have arisen roughly every 20 years over the past century and a half. The Amazon has characteristics – high diversity of wildlife virus hosts and rising deforestation rates – which are common to hotspots for emerging diseases. Yet, currently the Amazon is still considered a low spillover area. This webinar hosted by the ASL program will present the results of the report "Could a future pandemic come from the Amazon? The Science and Policy of Pandemic Prevention in the Amazon", that suggests key actions to reduce the risk that the basin becomes a source of future pandemics.
Global economic losses in the tens of trillions of dollars, the loss of millions of lives and untold social disruption resulting from COVID-19 suggest that investing billions of dollars in preventing pandemics is a sound investment. The Amazon offers cost-effective opportunities to reduce deforestation, restore and protect indigenous lands and protected areas, and maintain its vital role in the climate system. The regional and global benefits of these actions merit national investments, complemented by international funding, to help prevent the next pandemic. While the efforts of the GEF-funded ASL Program and other national and regional initiatives are headed in the right direction, these approaches need to be scaled up to further control deforestation and thus, reduce the risk of future pandemics.