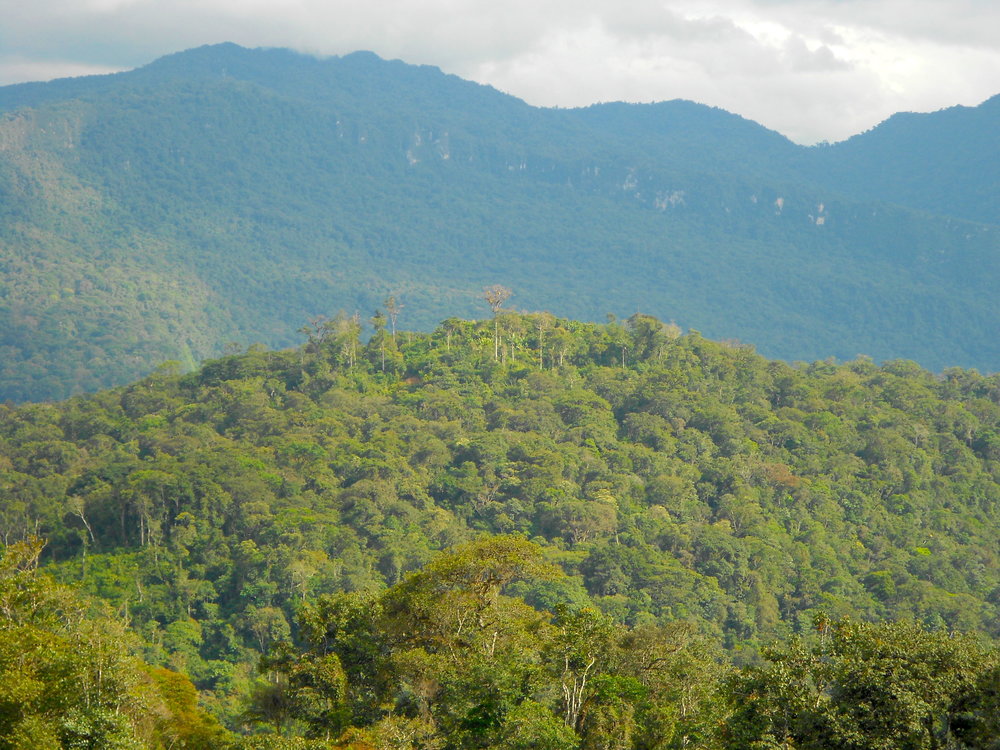 Photo: ABC
The Andes Amazon Fund (AAF) is pleased to announce the creation of the Monte Puyo (Bosque de Nubes) Private Conservation Area, which secures 39,915 acres of cloud forest and wetlands in the region of Amazonas. In response to rising deforestation rates in northern Peru, the Yambrasbamba community led this conservation initiative in partnership with AAF grantees American Bird Conservancy (ABC) and Asociación Ecosistemas Andinos (ECOAN), with support from the national government. Declared on October 5, 2018, Monte Puyo is regarded as a high-conservation priority due to its extraordinary biodiversity and proximity to a number of existing protected areas.
"More than 500 bird species live inside the new Monte Puyo Private Conservation Area, including the endangered ochre-fronted antpitta and speckle-chested piculet. The endangered long-whiskered owlet likely occurs here too but remains to be confirmed. This forest is also home to iconic mammals like the Andean bear and the critically endangered yellow-tailed woolly monkey," said Constantino Aucca, President of ECOAN.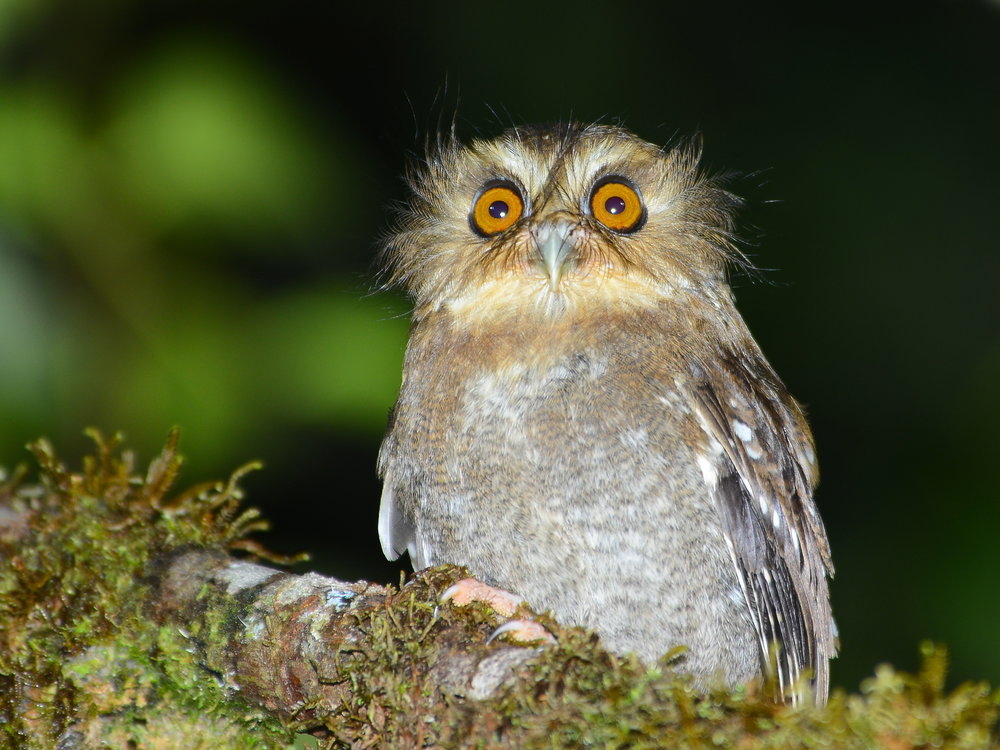 Long-whiskered owlet (Xenoglaux loweryi). Photo: ECOAN
In an effort to protect their territory from outside threats, the Yambrasbamba community will manage the new Private Conservation Area. This categorization within Peru's National Protected Area System is unique in that it allows communities to set aside part of their communal property for conservation, while allowing for sustainable development opportunities.
"This new protected area helps our community protect our watersheds and biodiversity, helps us to attract tourists to come see unique geological formations within our underground caves, and helps us defend our territory against invasion by colonists from outside," said Walter Colongos Collaton, President of the Yambrasbamba community.
In addition to the social, environmental, and economic benefits that the area will provide to local people, it will also serve as a conservation tool on an even greater scale. By shortening the gap between nine protected areas, including the Alto Mayo Protected Forest, Rio Nieva Reserved Zone, and Cordillera de Colán National Sanctuary, Monte Puyo adds to a conservation mosaic of over 800,000 acres. This will help ensure the survival of the area's unique flora and fauna and will help mitigate climate change by preventing additional deforestation.

Monte Puyo Private Conservation Area (#4) better connects an existing network of protected areas by extending an adjacent 183,750-acre cluster of three national reserves, including the Cordillera de Colan National Sanctuary (#1), and nearly connecting these with an additional 576,798-acre cluster of five protected areas to the east that includes the Alto Mayo Protected Forest (#8), Rio Nieva Reserved Zone (#6), and Abra Patricia Reserve (#7). Note: Monte Puyo's boundaries shown on this map are about 6 percent larger than the final approved boundaries. Click to enlarge map.
"When ABC teams up with a local partner like ECOAN to protect critical bird habitat, they also protect thousands of other species, many of which are unknown to science. In addition, Monte Puyo is an important watershed that provides clean water for communities living around the protected area and for the Amazon basin as a whole," said Dr. Adrian Forsyth, Executive Director of AAF.
ABC and ECOAN will continue working with communities in northern Peru to further strengthen the conservation mosaic. AAF congratulates the Yambrasbamba community, Minister of the Environment Fabiola Muñoz, the Peruvian Protected Area Service (SERNANP), ABC, ECOAN, and other partners for the creation of Monte Puyo. The Wyss Foundation provided critical financial support that made this achievement possible.
Download the full press release here.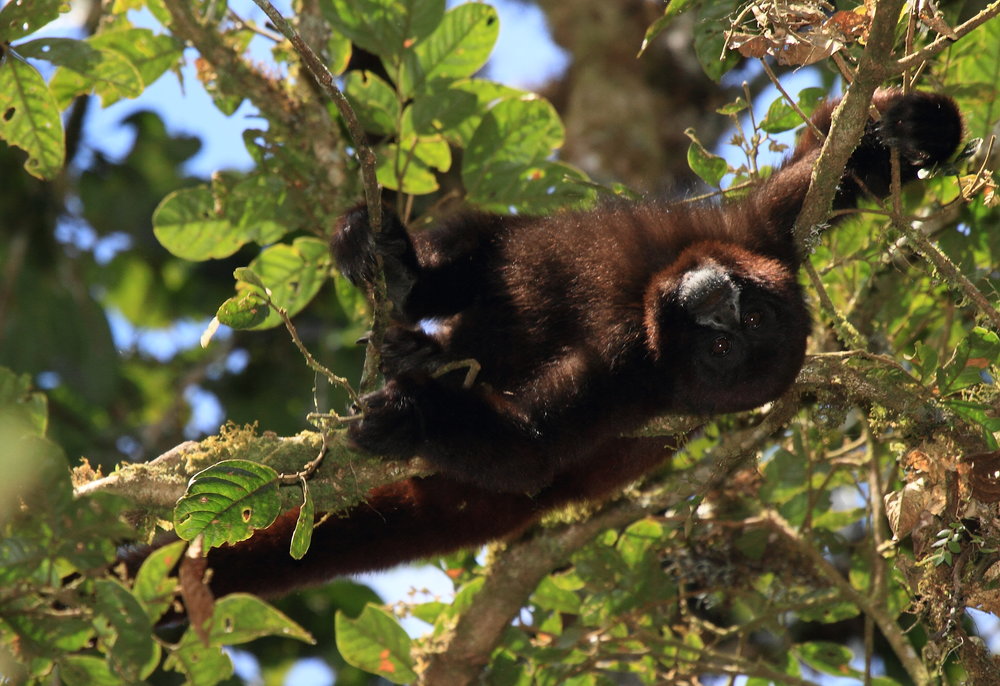 Yellow-tailed woolly monkey (Oreonax flavicauda). Photo: ECOAN
---
More information:
American Bird Conservancy (ABC): "Rare Birds Protected In New 40,000 Acre Peruvian Reserve"
SPDA Actualidad Ambiental: "Monte Puyo: El área de conservación privada número 14 de la región Amazonas"
El Comercio: "Monte Puyo, la nueva Área de Conservación Privada de Perú"
Living in Peru: "Monte Puyo is the New Private Conservation Area of Peru"
Andina: "Conoce el Monte Puyo, la nueva área de conservación privada de la región Amazonas"
MAKE AN IMPACT
Learn how we can make an impact in our world together. Donate or get involved by subscribing to our email list: