A few months ago, the Bajo Paraguá Municipal Protected Areas were created in Bolivia through the hard work of AAF grantee Fundación Natura Bolivia and partners. This past week, they traveled to the area to meet with local leaders and inhabitants to install and inaugurate the Bajo Paragua's official identification signs and demarcation posts.
The following words are by Carmen Suarez of Fundación Natura Bolivia:
Before the sun's rays appeared on the horizon, the caravan journey to the Municipal Protected Area of Bajo Paraguá began for the mayor of San Ignacio de Velasco, Moisés Salces and the mayor of Concepción, David Mollinedo. The goal of their April 19th journey – accompanied by Fundación Natura Bolivia and representatives of the Santa Cruz Departmental Government and the Foundation for the Conservation of the Chiquitano Forests – was to make the first demarcation and to place identification signs for the new Bajo Paraguá Municipal Protected Area.
The Bajo Paraguá San Ignacio de Velasco Municipal Protected Area, with 2.4 million acres and the Concepción Municipal Natural Park of Bajo Paraguá with 380 thousand acres under conservation, belong to different jurisdictions, but both areas complement each other and will help foster sustainable management of the Amazon and Chiquitano forest of "Bajo Paraguá".
At the southern boundary of the new conservation area, the Mayors placed the first marker, identifying the limits of Bajo Paraguá San Ignacio Protected Area. The journey continued for several hours northwards to Picaflor, a Guarasug'we community deep within the new protected areas. Community members waited with different dishes of food they had made. Here the mayors of San Ignacio de Velasco and Concepción shook hands and signed an inter-institutional agreement to work together and join forces in the protection of Bajo Paraguá and unveiled one of the identification signs of the complementary protected areas.
The caravan continued until reaching a strategic point (Pato de la Gallina) where 3 roads meet and that divides Concepción from San Ignacio. At this point another sign was placed to identify the Bajo Paraguá-Concepción Municipal Natural Park.
The last journey of the caravan ended late at night on April 19th in Piso Firme, on the banks of the imposing Rio Paraguá, next to the Noel Kempff Mercado National Park. Piso Firme delimits the northern end of the Bajo Paraguá San Ignacio Protected Area and a sign identifying the area was placed. The placement of the sign was charged with emotion, as it was led by the forest rangers of the Noel Kempff Mercado Park, the neighbor of Bajo Paraguá.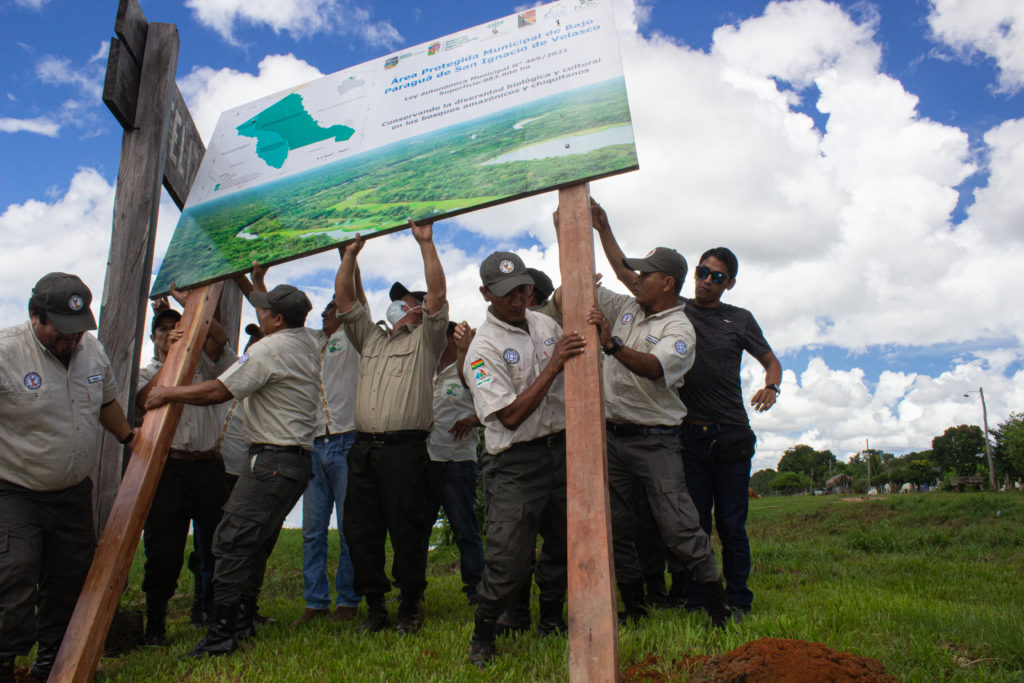 MAKE AN IMPACT
Learn how we can make an impact in our world together. Donate or get involved by subscribing to our email list: