The Andes Amazon Fund (AAF) celebrates the creation of Cascales Municipal Conservation Area, declared on November 27, 2018 in Ecuador's Sucumbios Province. Rich in biodiversity, this area will protect 152,021 acres (61,521 hectares) of forest along the eastern slope of the Andes Mountains.
Located close to Cayambe Coca National Park, Cuyabeno National Wildlife Reserve, Sumaco Napo-Galeras National Park, and Cofán Bermejo Ecological Reserve, Cascales will help prevent ecosystem fragmentation within this network of protected areas. This is particularly important for the migration of vulnerable and endangered species— such as the mountain tapir (Tapirus pinchaque) and the northern pudu deer (Pudu mephistophiles)— that depend on large tracks on land remaining intact.
The ecosystems found within the new Municipal Conservation Area and its inhabitants face increasing pressure from climate change. Scientific research has shown that as global temperatures rise, plants and animals move to higher elevations over time. When habitats such as these remain connected, species have a better chance of survival as they migrate.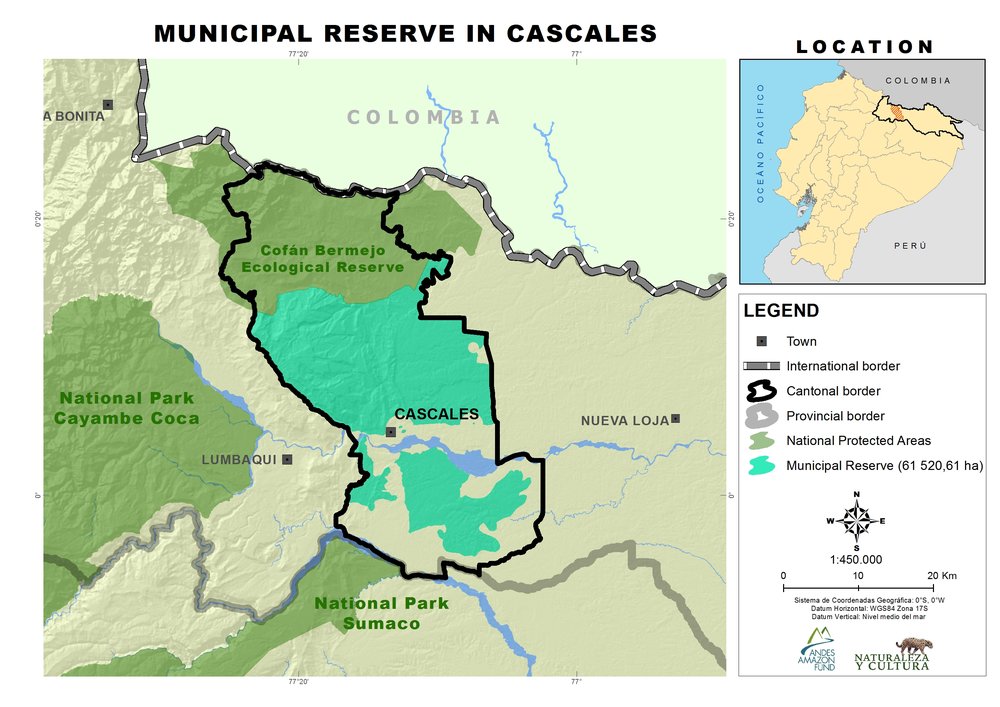 Click to expand map.
"The newly created Cascales Municipal Conservation Area is extremely strategic because it connects to the Cofán Bermejo Ecological Reserve along the border with Colombia towards Sumaco Napo-Galeras National Park and also is closely placed next to Cayambe Coca National Park. This increase in connectivity enhances the resilience of all of these protected areas and will allow them to do a better job of resisting the impacts of climate change. Without these large interconnected protected areas, it will be impossible to maintain top predators and other key wildlife that need vast areas in order to survive," said Andes Amazon Fund Executive Director Dr. Adrian Forsyth.
The Municipal Government of Cascales led this conservation effort with the support of Andes Amazon Fund grantee Naturaleza y Cultura Internacional (NCI) and local actors. We congratulate Ecuador for this significant achievement that will ensure the long-term protection of the country's unique ecosystems.
"The Andes Amazon Fund is proud to support the conservation vision of the people of Cascales. Their local efforts are giving countless species a chance to survive, while ensuring a healthy environment for the families in the area," said Andes Amazon Fund Project Director Megan MacDowell.
Download the full press release.
---
Photos: NCI

MAKE AN IMPACT
Learn how we can make an impact in our world together. Donate or get involved by subscribing to our email list: