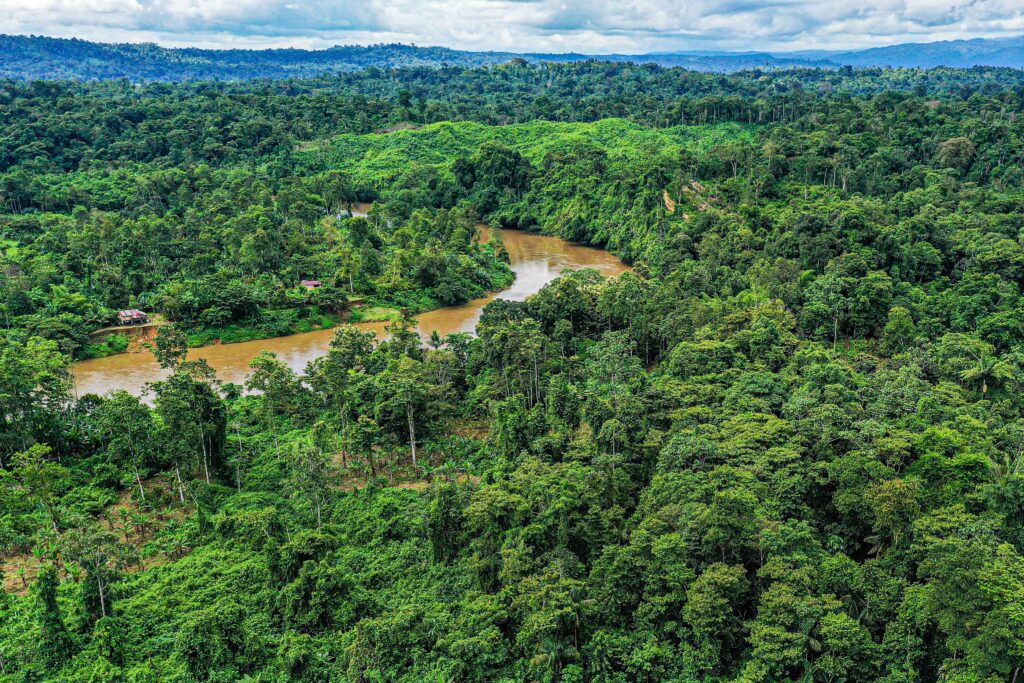 On September 20th, 2023, a large crowd gathered to celebrate in the northern Ecuadorian province of Esmeraldas. Surrounded by the joyful energy of marimba music, traditional dances, and colorful clothing, an agreement was signed into law. The cause for celebration: Esmeraldas' provincial government had officially established the Ecuadorian Chocó Tropical Forest: "Camino del Jaguar" Conservation and Sustainable Use Area, which protects 528,207 acres (213,758 hectares) of some of Ecuador's most biodiverse and threatened forests. The new area represents a sign of hope not only for the region's ecosystems but also for an improved quality of life for the over 12,000 families living within the new conservation area.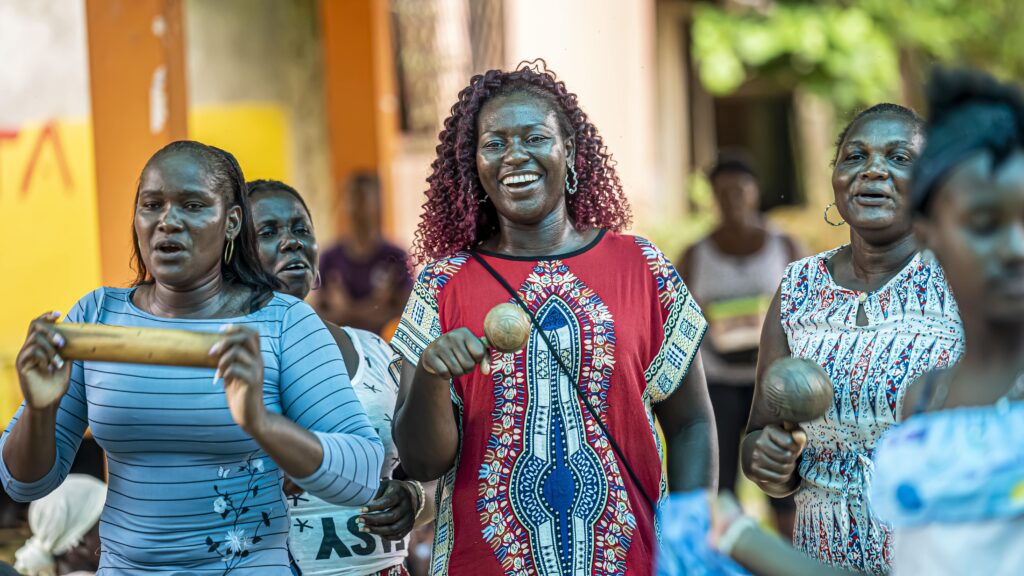 Protecting the Last Ecuadorian Chocó Forests
Camino del Jaguar (or "Path of the Jaguar" in English) conserves over half a million acres of some of the last remnants of the native Ecuadorian Chocó ecosystem, part of a global biodiversity hotspot that extends from Panama to northern Peru. The region holds a high concentration of biodiversity and water sources, yet the forests face constant threats from agricultural expansion, mining, and colonization. Less than 2% of the original expanse of the Ecuadorian Chocó remains, and its deforestation rate is the highest in the country. 
The new conservation area connects to a mosaic of other protected areas, securing the conservation of 70% of Esmeraldas' remaining forests. Camino del Jaguar borders the Cotacachi Cayapas National Park and the San Lorenzo Municipal Reserve, surrounds the El Pambilar wildlife refuge, and connects to the northwest with the Cayapas Mataje Ecological Reserve.
The humid tropical forests of Camino del Jaguar are home to 1,258 species of invertebrates, among which are 850 species of birds, 139 species of mammals, 111 reptile species, and 124 species of amphibians. Scientists have also recorded 2,225 species of flora within the new protected area. In addition to the protection of thousands of species of flora and fauna, the conservation area plays a role in mitigating climate change, as at least 20 million tons of CO2 are stored in its forests.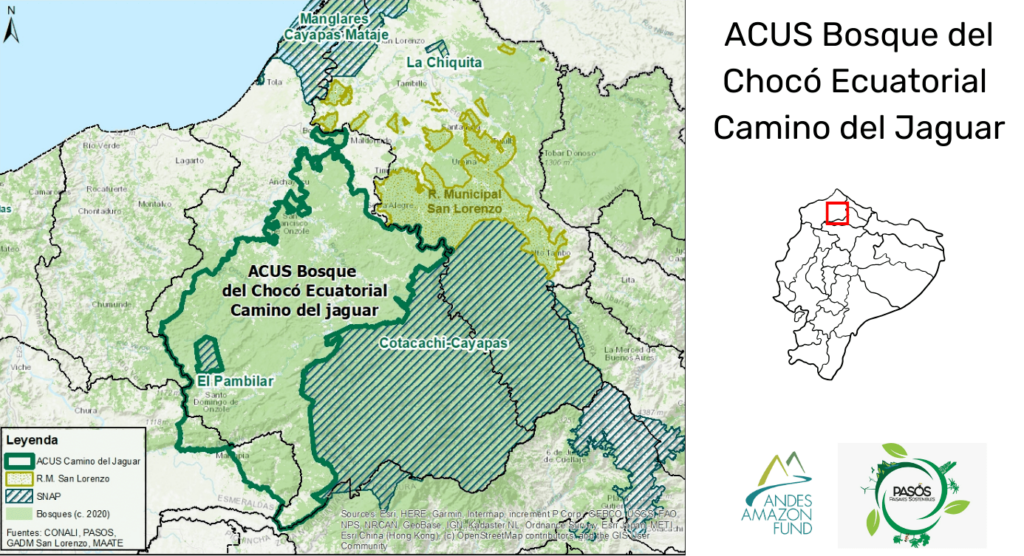 The preservation of water sources is also a vital aspect of the conservation area. The Cayapas, Onzole, Canandé, and Santiago river basins all fall within the boundaries of Camino del Jaguar. These rivers provide the primary water sources for tens of thousands of people. One example is the town of Eloy Alfaro, which receives 100% of its water sources from the Cayapas River basin, and of which a third of its aquifer content is located within the new conservation area.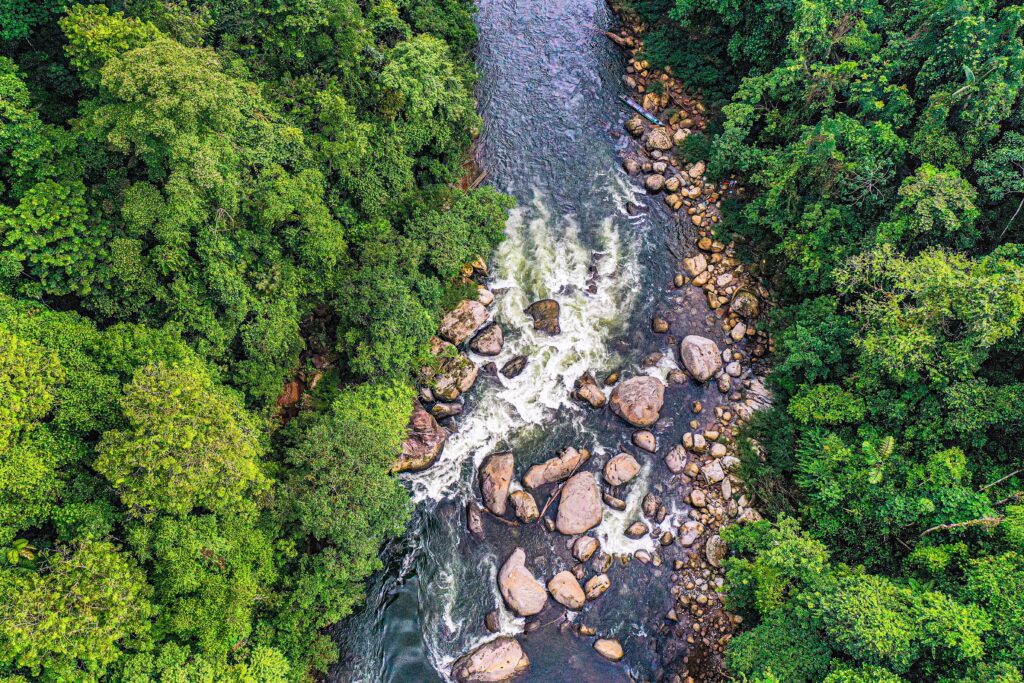 Socio-Political Context
For over 400 years, the Esmeraldas province has been home to Ecuador's largest population of Afro-Ecuadorians, and the last members of the Chachi people, an indigenous ethnic group with a population of approximately 5,000. Both communities have a long history of living side by side, relying on the dense, humid forests and rivers of their surroundings.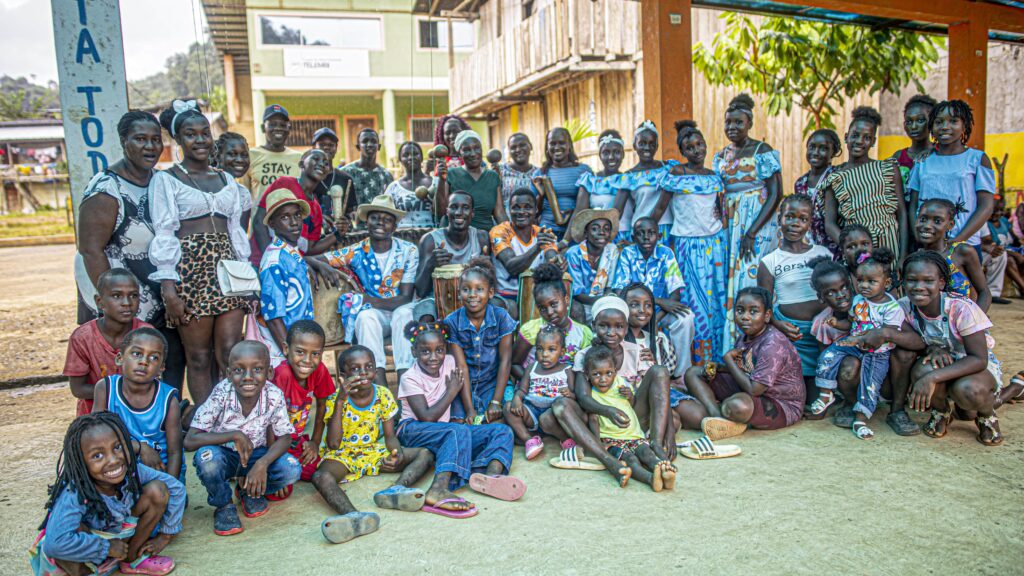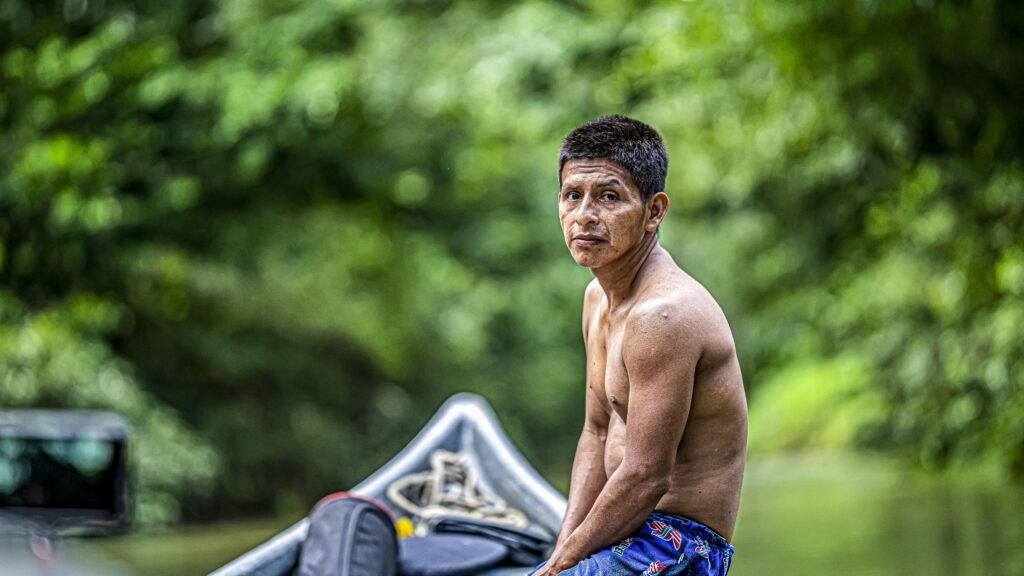 Nearly half of Esmeraldas' residents live below the poverty line, and high levels of unemployment or underemployment have forced many people to turn to activities like mining, illegal agriculture, and deforestation as means of survival. Invasions from outsiders also pose a threat to the landscapes and livelihoods of the people of Esmeraldas.
The forest has been the livelihood of our Afro-Ecuadorian community, and of the other ethnicities located here.

Moicés Quiñonéz, resident of one of the nearby communities.
For us as Chachi Women, conservation is very important. Conservation is our life. The water, the forests, the animals… as we are people of the rainforest, that is our life.

Rosa Pianchiche, Parroquia Telembí
Speaking about the constant threats to their forests and the lack of economic opportunities, Lenin Boada of the NGO Paisajes Sostenibles (PASOS), who lives in Esmeraldas, shared:
The Afro communities became aware, and they said 'Enough—we are going to dedicate ourselves to conservation.' They sought out several governmental and non-governmental institutions to support them and to promote their own sustainable development.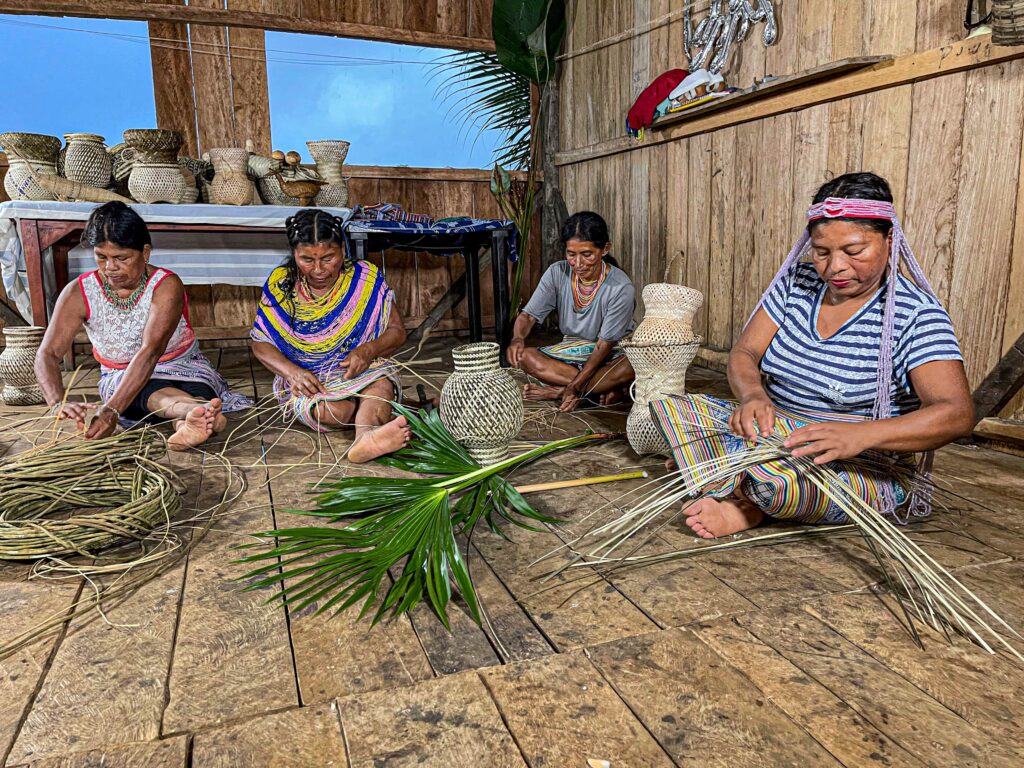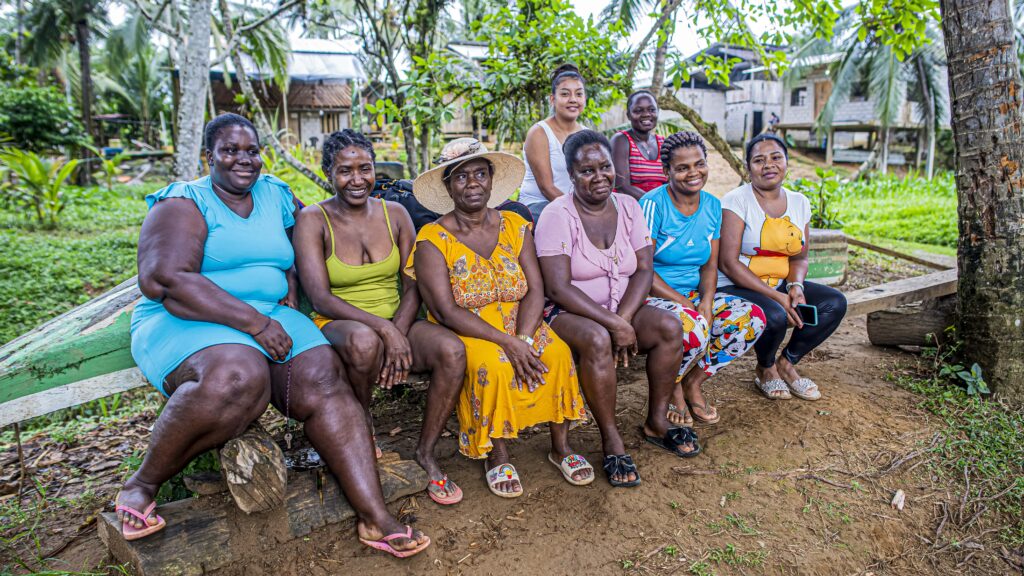 Supporting Economic Opportunity also Supports Conservation
In addition to protecting the natural landscapes, another priority of the conservation area is to improve the quality of life for approximately 12,000 families, made up primarily of Afro-Ecuadorian and Chachi communities.
The creation of Camino del Jaguar will allow these families to get involved in new economic opportunities that don't harm intact forests- from sustainable tourism to organic agriculture, to selling non-timber forest products (i.e. products that can be harvested without cutting down trees). Through training, capacity building, and the provision of necessary equipment, our partners at PASOS have succeeded in promoting a series of sustainable development initiatives with and for local communities.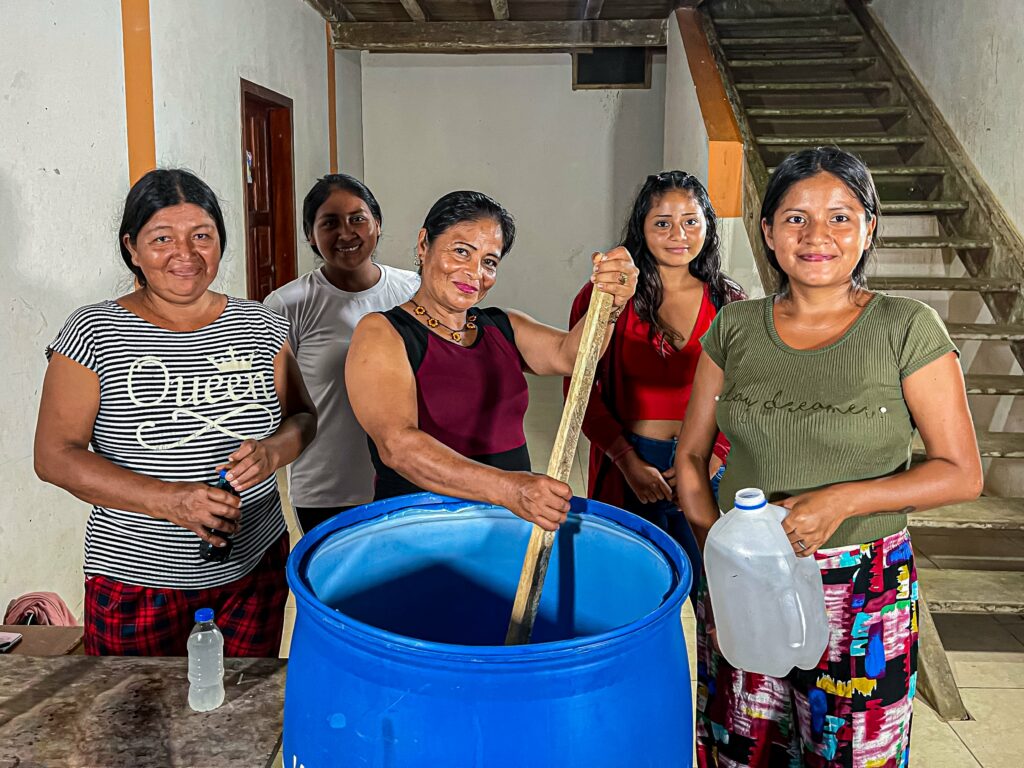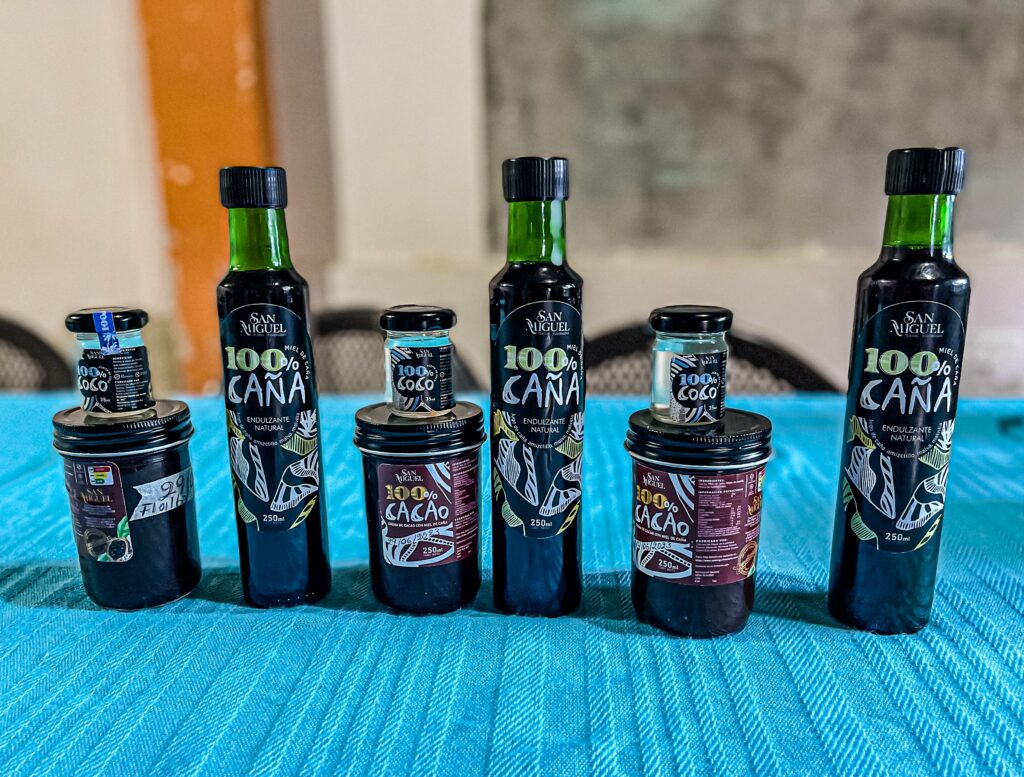 The PASOS Foundation has supported us, men and women alike, [to become] entrepreneurs. [The women in our community] have gained knowledge through workshops on creating liquid soap with essential oils from native plants. They are making sales, and with that money, they are improving their lives.

Filian Vernaza, Recinto Arenales community member.

These economic initiatives also provide unique opportunities to empower women and arm them with the necessary tools to make an independent income.
We women didn't have help…. But now we are moving forward, making an effort to improve ourselves as fellow women, and to earn our own money.

Luz del Carmen Cortéz, Recinto Arenales
These initiatives also present an alternative to the extractive industries that drive deforestation. Luis Corozo, advisor to the mayor of the town of Eloy Alfaro, expanded on this point:
…If we conserve and maintain sustainable development, our people will be better off. Economic opportunities are being generated, and are allowing people to have income that previously only came from cutting down the forest.
Finally, conserving Camino del Jaguar means conserving the unique cultural heritage of Esmeraldas. Supporting the long-term preservation of this area helps guarantee that the cultures and traditions within it do not disappear.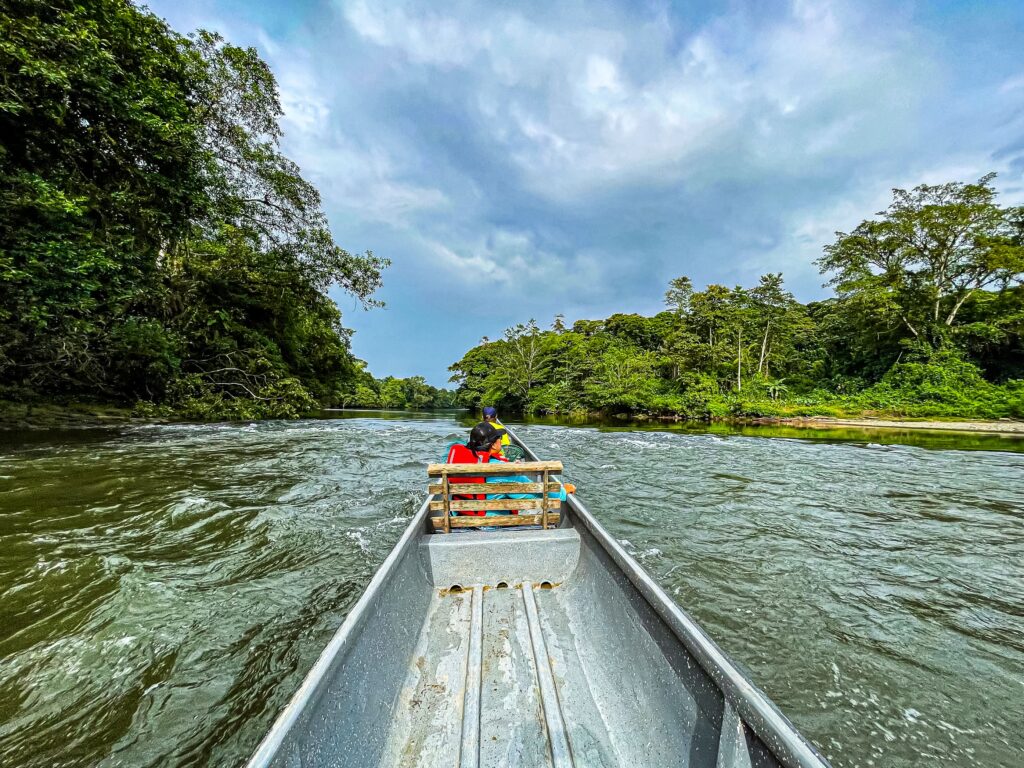 Acknowledgments
This major environmental, social, and economic milestone was made possible by the Autonomous Decentralized Government of Esmeraldas, the Prefect of Esmeraldas, Roberta Zambrano, with the extensive involvement and advocacy of local communities, and technical support from our partners at Paisajes Sostenibles (PASOS).
MAKE AN IMPACT
Learn how we can make an impact in our world together. Donate or get involved by subscribing to our email list: