Andes Amazon Fund celebrates the declaration of the Kakataibo Indigenous Reserve by the Peruvian government on July 21. The new reserve, which was created to provide strict protection for the forests that are home to the Kakataibo Indigenous people living in voluntary isolation and initial contact, is divided into northern and southern zones that together total 368,180 acres (148,997 ha). The northern territory of the Kakataibo people hugs the foothills of Cordillera Azul National Park and extends towards the Ucayali lowlands. The area's mountainous geography, spanning parts of the departments of Loreto, Ucayali, and Huanuco, protects numerous headwaters that also constitute an important source of ecosystem services for surrounding populations by supplying water, food, and more. The declaration of the reserve comes at a crucial time for the protection of the Kakataibo people who are currently facing mounting threats ranging from the COVID-19 pandemic to trafficking of their lands and advancing deforestation.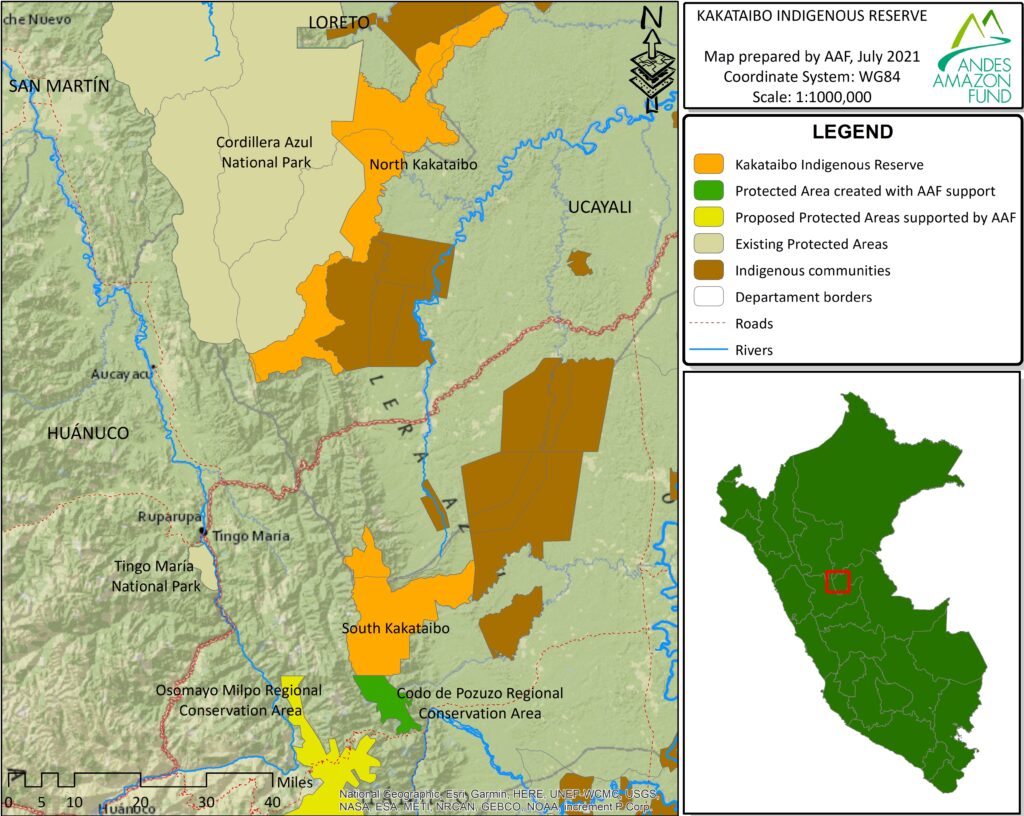 The establishment of this reserve aims to reduce further encroachments into Kakataibo territory stemming from the presence of a major road that has bisected their homeland and long facilitated access into surrounding forests, exposing the Kakatibo people to illegal activity and outsiders.
As semi-nomadic people, the Kakataibo depend on access to a diverse ecosystem that is able to sustain their livelihoods. The Reserve's creation strengthens a forested corridor that includes the Cordillera Azul National Park, the newly declared Codo de Pozuzo Regional Conservation Area, and other potential conservation areas that are still in the proposal stage. This corridor is of vital importance to the Kakataibo Indigenous people and the surrounding Indigenous communities as it will provide further protection for the area and its ecosystem.
Next steps
Andes Amazon Fund is committed to the continued protection of the Kakataibo Indigenous people and we are currently working with Peru's Ministry of Culture and other Peruvian partners to develop the protection plan for the reserve, a document prepared with the participation of Indigenous organizations representing the people living inside the reserve. Andes Amazon Fund will also support the hiring of protection agents, identifying and constructing guard posts in strategic areas, and patrolling costs.
Acknowledgments
The long-awaited creation of the Kakataibo Indigenous Reserve was the result of the hard work of Indigenous federations in Peru such as the Confederation of Amazonian Nationalities of Peru (CONAP), the Interethnic Development Association of the Peruvian Jungle (AIDESEP) and its regional Ucayali division (ORAU), and the Federation of Indigenous Kakataibo Communities (FENACOKA). In conjunction with Peru's Ministry of Culture's Interculturality Division, AAF grantee Instituto del Bien Común (IBC) conducted technical studies, inter-institutional coordination, and social outreach, with administrative and coordination support conducted by AAF grantee Center for the Conservation, Investigation and Management of Natural Areas (CIMA). Andes Amazon Fund extends its gratitude to Peru's Ministry of Culture and to President Francisco Sagasti for formally declaring the reserve to ensure the protection of these vulnerable populations.
More information in Spanish from our partner Instituto del Bien Común can be found below:
MAKE AN IMPACT
Learn how we can make an impact in our world together. Donate or get involved by subscribing to our email list: