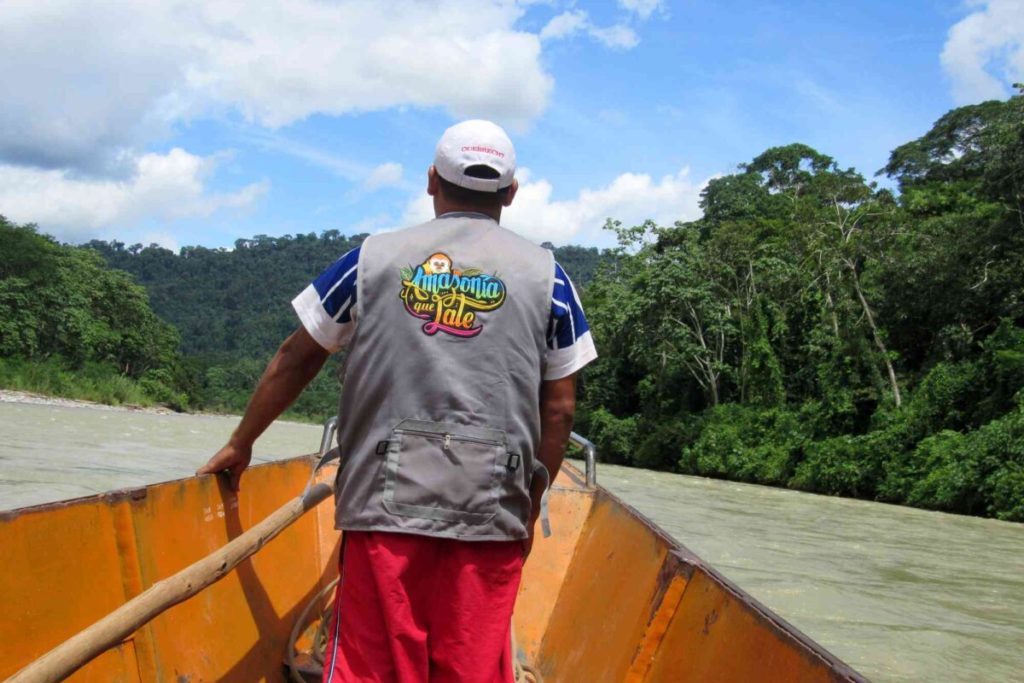 Since our inception, Andes Amazon Fund (AAF) has focused on conserving the biodiversity, ecosystems, and environmental health of the Andes and Amazon. Through grants awarded to dedicated local nonprofits, we've been able to support not only the establishment of new conservation areas but also to invest in their improved management, so they are made to last. 
As one example, starting in 2015, Andes Amazon Fund has partnered with "Amazonians for the Amazon," (AMPA), an organization committed to protecting Peru's natural and cultural heritage and to finding a sustainable development path for the people of the Amazon and Andes.
One of AMPA's strategies has been to create a network of 5,000+ forest guardians from 6 regions of Peru that together conserve more than 3.7 million acres. This network is known as Amazonía que Late ("The Amazon's Beating Heart") and represents more than 140 community-managed conservation areas (including conservation concessions, private conservation areas and ecotourism concessions). In its vast network, Amazonía que Late members care for mega diverse ecosystems home to endemic, rare, and threatened species like the jaguar, the yellow-tailed woolly monkey and the Andean bear, to name a few. All members are volunteers, whose passion to protect the natural wonders of Peru is unmatched. In fact, they're the reason behind the project's name, which comes from the belief that "forests and hearts, both full of life, beat together as one."
In 2020 alone, AMPA led the process of creating six new conservation areas in the regions of Loreto and San Martin with AAF support. However, creation is just the beginning, our work is to then ensure that these areas are supplied with what they need to secure their protection, such as patrolling equipment, monitoring plans, and training and empowerment opportunities. This is where Amazonía que Late steps in. Let's dive into a few stories from the region of San Martin.
In the past few months in the Los Otorongos Conservation Concession, AMPA, the Amazonía Que Late network, and local authorities, have worked together to implement a patrolling system, organize roles for volunteer patrol crews, and lead an workshop focused on how to use the GPS systems and drones. They've also guided expeditions to mark the boundaries of the new conservation areas and used satellite monitoring to watch for any deforestation. These processes were based on the concession's management plan (DEMA), a document that details the area's management activities for the next five years and was developed through a three-day workshop led by AMPA. 
Just north of Los Otorongos in San Martín is the Cerro Blanco Conservation Concession, an area that protects important water sources for nearby communities. In February, representatives of both concessions, together with members of five other conservation areas, took part in a workshop aimed at strengthening their use of audiovisual tools and the management of their new equipment for monitoring deforestation. Participants were able to create short videos about their conservation efforts. Thanks to Amazonía que Late, reporting "kits" were gifted to participants that included microphones, notebooks, manuals, and other materials to aid in future audiovisual production about their projects. With these tools, communities are better able to monitor their conservation areas, inspire others to protect nature, and preserve knowledge for future generations.
There are many more stories like this that can be found (in Spanish) on AMPA's site. Thank you to AMPA and to the Amazonía que Late network for supporting conservation strategies that empower local people and help ensure the longevity of these precious forests.
MAKE AN IMPACT
Learn how we can make an impact in our world together. Donate or get involved by subscribing to our email list: