The Andes Amazon Fund celebrates the expansions of Puerto Córdoba, Comeyafú, and Camaritagua indigenous reserves in the Amazonas department of southern Colombia. Known as resguardos, these areas are inhabited by thirteen indigenous groups, including the Bora, Barasano, Carijona, Cubeo, Letuama, Miraña, Matapi, Macuna, Tatuyo, Tariano, Tanimuca, Uitoto and Yucuna. The expansion of the three reserves will not only strengthen conservation efforts in the Colombian Amazon but will also ensure the survival of these threatened peoples and their cultures.
Expanded by a total of 113,103 acres (45,771 hectares), Puerto Córdoba, Comeyafú, and Camaritagua will contribute to an existing network of protected areas, strengthening the connectivity between Yaigojé Apaporis, Río Puré, Cahunarí, and Chiribiquete National Parks. This is an area of high conservation priority, as it includes the basins of the Puré, Mirití Paraná, and Apaporis rivers and contains at least one known uncontacted indigenous group— the Yuri.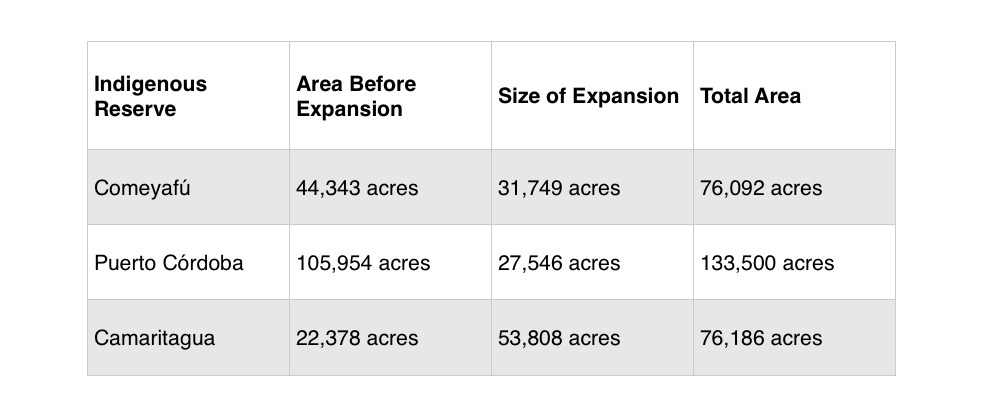 Click to expand table.
"With the expansion of these important resguardos, Andes Amazon Fund has supported 5 million acres of new habitat protection in the area around Chiribiquete National Park. This huge block of protected habitat offers the best hope for maintaining healthy ecosystems while providing the natural resources that indigenous people depend on," said Andes Amazon Fund Executive Director Dr. Adrian Forsyth.
The Colombian Amazon faces one of the highest rates of deforestation in the country. Between January 2017 and February 2018, an area 27 times larger than the size of Manhattan was lost due to small-scale agriculture, landgrabbing, illegal mining, coca cultivation, and other illicit activities. Indigenous land stewardship and the recognition of ethnic-community land rights have proven to be some of the best ways to stop this destruction.
"Securing the legal land rights of indigenous peoples will prevent potential illegal activities and further environmental degradation. These steps are needed now more than ever," said Andes Amazon Fund Program Director Enrique Ortiz.
Close to the border of Brazil, the expanded resguardos will now protect a combined total of 285,778 acres (115,650 hectares) of tropical humid forests, flooded forests, and vegetation associated with rocky outcrops, lakes, and rivers in the region. These areas harbor a wealth of biodiversity, such as an estimated 1,500 species of plants, 300 species of birds, 100 species of amphibians, and 300 species of fish.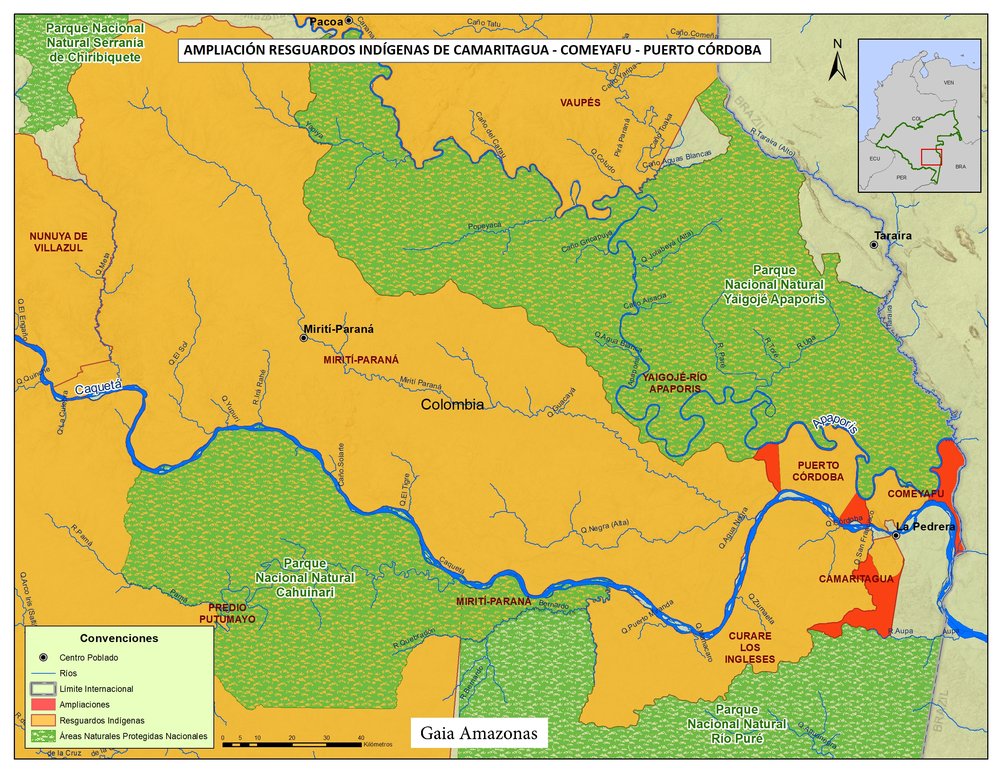 Click to expand map.
This effort was led by the thirteen indigenous communities with the support of the Colombian government and our grantee, Gaia Amazonas. We congratulate the indigenous communities residing in Puerto Córdoba, Comeyafú, and Camaritagua, President Iván Duque, Agencia Nacional de Tierras, Gaia Amazonas, and other partners for this landmark achievement that will help ensure the protection of the Colombian Amazon and those who call it home.
Download the full press release here.
---
More information:
Gaia Amazonas: "Trece pueblos indígenas de la Amazonía colombiana recuperan más de 44.000 hectáreas de su territorio ancestral"
Photos by Gaia Amazonas
MAKE AN IMPACT
Learn how we can make an impact in our world together. Donate or get involved by subscribing to our email list: