Photo: Enrique Ortiz
Wyss Foundation, Moore Foundation and Andes Amazon Fund invest in conservation in Colombia, Peru, Bolivia and Ecuador.
In a joint statement today, the Gordon and Betty Moore Foundation, Wyss Foundation and Andes Amazon Fund announced a total of $15 million in funding for conservation in the Andean Amazon region of Colombia, Peru, Bolivia and Ecuador.
The Amazon headwaters region is home to the world's greatest concentration of biodiversity and abundant endemic species, especially along the eastern flank of the tropical Andes. The montane cloud forests and other ecosystems in the region boast one-third of the planet's species of flora and fauna, with new species still discovered regularly, adding to the more than 2.5 million species of insects, tens of thousands of plant species, nearly 3,000 fish species, and well over 2,000 species of birds and mammals already identified. And the headwaters rivers generate nearly a quarter of the world's freshwater while the forests help regulate the Earth's climate.
Today, approximately 19 million people live in the Amazon headwaters region, including 1.4 million indigenous people living throughout the Amazon basin in traditional territories, which are often effective conservation bastions with important wildlife populations and low deforestation rates. Formally designated protected areas and indigenous lands, which cover more than half of all Amazon forests, have proven effective in stemming the many threats to forests and freshwater systems. The benefits to people can also be profound: this region provides direct ecosystem services for rural and urban communities, and several indigenous tribes in this region live in voluntary isolation with no contact with modern society, and many others are seeking formal designation of their lands.
However, these areas require sufficient management and good governance mechanisms to ensure their long-term viability. In recent years, especially those areas outside protected areas and indigenous lands have seen a steady increase in forest loss as roadways and hydroways expand, and resources are extracted, often illegally. In addition, potential resettlement plans within Colombia's peace accord and interest in establishing market-access waterways for Loreto, Peru, will accelerate land-use change.
Within this context, there is an imperative to increase donor coordination and leverage more resources, to heighten the conservation impact and increase the efficiency of grantmaking in the region. "The collaboration between foundations can be a powerful tool for increasing efficiency for grantees and providing the resources needed to have outcomes at a greater scale with more durability. The fate of the Amazon is such a huge issue for planetary health that the pooling of resources and sharing of agendas is just what is needed," said Adrian Forsyth, Ph.D., Executive Director of Andes Amazon Fund.
With this announcement today, Andes Amazon Fund is matching $5 million in Moore Foundation funds with an additional $10 million from the Wyss Foundation."The Wyss Foundation is proud to add its support to help protect this vital region of the world. This effort furthers our goal of seeking to protect these lands that are often referred to as the 'lungs of the planet', for both the local indigenous people and the whole world," explained Molly McUsic, President of the Wyss Foundation.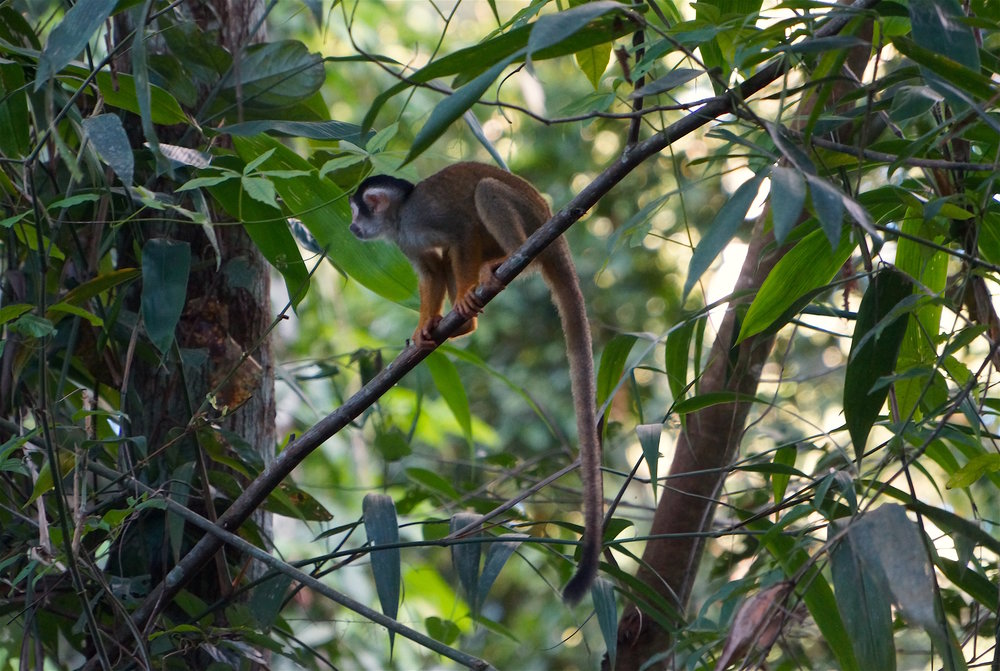 Photo: Enrique Ortiz
The coordinated funding will support organizations working toward three primary outcomes:
Consolidating the conservation status of approximately 20 million hectares—at least 15 protected areas and 15 indigenous lands in the Amazon regions of Colombia, Peru, Bolivia, and Ecuador.

Promoting the sustainable finance of Peru's national parks system through Peru's Natural Legacy Initiative, led by the Peruvian Protected Areas Service (SERNANP), leveraging in-country financing and ensuring long-term funding for management of key protected areas.

Formally designating an additional 800,000 hectares in Peru to secure connectivity and formalize protection, while supporting local civil society organizations in their work to cultivate new supportive constituencies for conservation at local and national levels.
"As the world faces deep social and environmental changes, we have a window of opportunity to secure the headwaters of the Amazon basin – with critical implications for the well-being of local peoples, wildlife and the Earth," said Avecita Chicchón, Ph.D., Andes Amazon Initiative director at the Moore Foundation. "We are delighted to embark on this partnership with Andes Amazon Fund and the Wyss Foundation."
---
The Andes Amazon Fund (AAF) is a multi-donor grant-making initiative that supports the conservation of the Andes-Amazon of Peru and surrounding countries through the designation and effective management of protected areas and indigenous reserves. Visit www.andesamazonfund.org or follow @andesamazonfund.
The Gordon and Betty Moore Foundation fosters path-breaking scientific discovery, environmental conservation, patient care improvements and preservation of the special character of the Bay Area. Visit www.moore.org or follow @MooreFound.
The Wyss Foundation is a private, charitable foundation dedicated to supporting innovative, lasting solutions that improve lives, empower communities, and strengthen connections to the land. Visit www.wyssfoundation.org or follow @WyssFoundation
Photos by Enrique Ortiz
MAKE AN IMPACT
Learn how we can make an impact in our world together. Donate or get involved by subscribing to our email list: